Nigerian gospel music sensation Frank Edwards has recently unveiled his latest single, "Sounds Of Many Waters," which is now available for streaming and download on all major music platforms. This awe-inspiring track is set to captivate and inspire audiences worldwide.
Drawing its inspiration from John 4:13-14, where Jesus speaks of the everlasting water He provides, promising that whoever drinks from it will never thirst, "Sounds Of Many Waters" beautifully encapsulates the spiritual significance of these verses.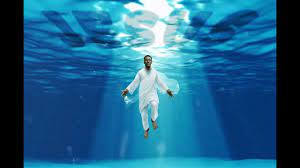 Frank Edwards' unwavering commitment to his craft shines through in the production of this remarkable song. Notably, the track features the actual sound of water from a bowl, a creative choice guided by divine inspiration. Frank Edwards explains that this decision was guided by a higher purpose, adding a tangible and evocative layer to the song's message. The soothing and harmonious presence of water serves as a metaphor for the living water mentioned in the scripture.
Sound of Many Waters Song Lyrics
Sounds of many Waters…
(Tongues)
[Verse 1]
Living Water
Flow through me
My world is waiting
To Drink from you
Healing Rain Let not Flow
Touching everyone
That Hears this Sound
[Chorus]
Living Waters (Hmm Hmm)
Flow through me
Like the Sound of many Waters
Overflow.
Living Waters (Hmm Hmm)
Healing Rain Rain Rain
Sounds of many waters…
(Waters Waters)
Overflow, Overflow
[Verse 2]
Drink from the Living Waters
Drink and Thirst no more
Hey, Swim in the Living Waters
And everything is all Right
There's Healing in the Water
Joy Like a River
There's Hope in the Water
Peace in the Water
Everything you Need
[Chorus]
Living Waters (Hmm Hmm)
Flow through me
Like the Sound of many Waters
Overflow.
Living Waters (Hmm Hmm)
Healing Rain (Hmm Hmm)
Sounds of many waters (Hmm Hmm)
Overflow, Overflow
[Bridge]
Can you Hear the Sound
Of the many Waters
(Aah Aah Eeh, Eeh Eeh Eeh)
Swim in the Living Water
(Aah Aah Eeh, Eeh Eeh Eeh)
Jesus is the Living Water
(Aah Aah Eeh, Eeh Eeh Eeh)
Would you Drink
From the Living Water
(Aah Aah Eeh, Eeh Eeh Eeh)
Take your Healing
From the Living Water
(Aah Aah Eeh, Eeh Eeh Eeh
Aah Aah Eeh, Eeh Eeh Eeh)
Sounds of many Waters